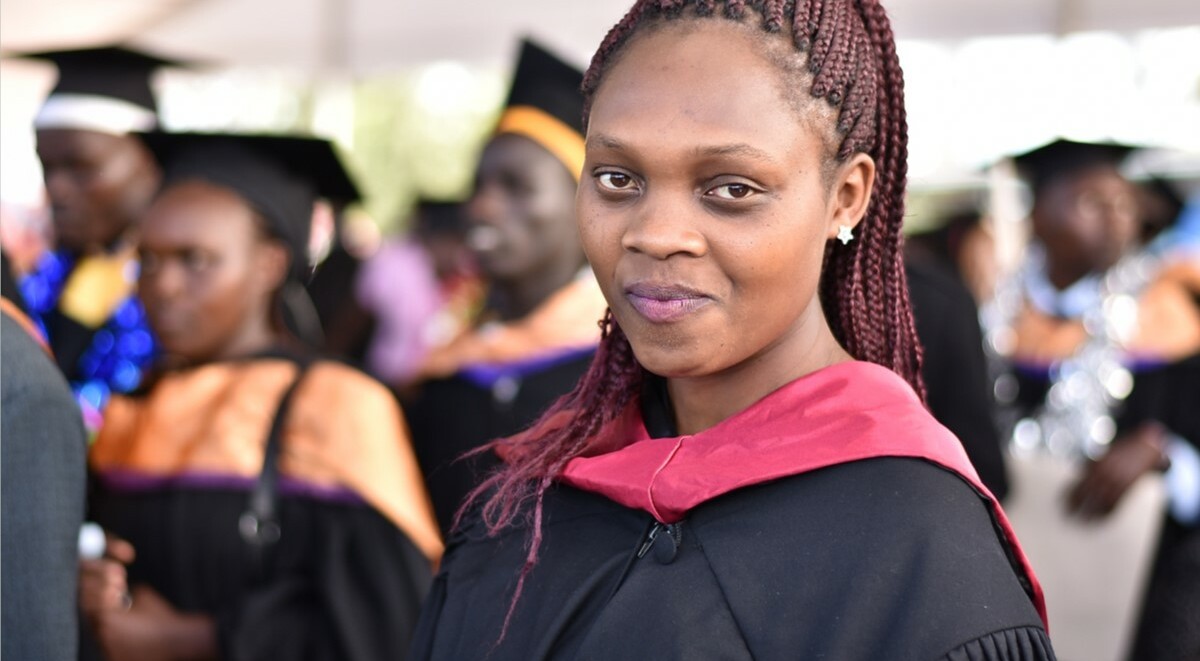 Attending university was a dream come true, but she could not afford the tuition and fees.
Anne Khalemesi is a grateful ACCES scholarship recipient and graduate. She graduated with a Bachelor's Degree in Commerce from Kibabii University in December 2019. Currently, she is employed in Nairobi as an assistant accountant for a financial institution.
During her early childhood, she lived in a small village in Vihiga County in Hamisi district. Her family's economic situation was dire. They lived in a two-room house made of mud with an earth floor and a grass roof. The house was so old that during the rainy season the roof failed, leaking water onto their household items.
"My two siblings and I were brought up by my aunt. My dad died in 1999 and my mom died in 2013 due to a stroke. My aunt is my whole world since she was our guardian despite her meager earnings from small scale farming". In primary school, Anne attended the village school as a day student, while lacking necessities such as proper clothing and shelter.
In secondary school, she had to defer her studies twice due to lack of school fees even though she worked at menial jobs to support her education. Despite this, she was optimistic that she would succeed. This determination enabled her to excel and qualify for admission into university without the financial support of a scholarship.
Attending university was a dream come true, but she could not afford the tuition and fees. If she did not find a financial solution, she would have to defer her studies again. Fortunately, while in Kakamega, she ran into a friend who told her about ACCES. She applied, went through the interview and home visit process and was accepted as a scholarship recipient.
Anne says, "I might just run out of words. Life gives us different experiences. It depends on how you take that experience forward and the way you execute it. Life at Kibabii University did not only encourage me to be academically strong but also helped me become a better person. I have developed leadership skills while acquiring inner confidence that indirectly helps me be a better accountant". As an ACCES beneficiary, Anne was also introduced to career guidance and counseling programs, which included mentoring primary and secondary children.
Anne is so thankful to ACCES donors. She says that you have made her adult life so different from her childhood life, as she is now independent and following her dreams.
Currently, she is paying fees for her younger brother who is in college and hopes to support others when she becomes more financially stable.
From Mirrors to Windows
"The purpose of education is to change mirrors into windows." (Sydney J. Harris)
When we look in a mirror, we see ourselves as we are now. For Kenyan children living in poverty, it is almost impossible to imagine a life beyond their dire circumstances. That is their symbolic mirror. Education can transform that mirror into a window, enabling Kenyan youth to see a different future, a future of opportunity, hope, and success.
Since 1993, ACCES has supported over 3,400 young Kenyans to graduation. As an ACCES donor, you have made this possible. ACCES receives over 500 applications per year from secondary school graduates who qualify and desperately want to attend college and university but cannot pay the tuition and other fees. Presently, about 100 new students per year are granted post-secondary scholarships. With your financial support we would like to do more.
Monthly donations provide sustainable funding

Regular giving supports students through to graduation and ensures fiscally responsible long-term planning. Together, we can transform mirrors to windows by alleviating poverty through education.
Message from a donor
My education has provided me with a world of opportunities, and it is a great joy for me to help students in Kenya make their dream of a university education come true. Why ACCES? Well, having met Beth and George Scott, I have confidence that ACCES is founded on a bedrock of integrity and a genuine desire to make a positive difference in the world. When I spent 6 weeks in Kakamega in 2011 as an ACESS volunteer, I learned firsthand how challenging it was for those who experienced rural education and poverty to attain a high school let alone a university education. I was also incredibly inspired by the ACCES graduates I met. Importantly, the ACCES principle that Kenyans select Kenyan candidates is an absolute strength of this organization. Yes, I feel privileged that I can contribute to the ACCES mission with my donation. (Elaine S., monthly donor since 2006)