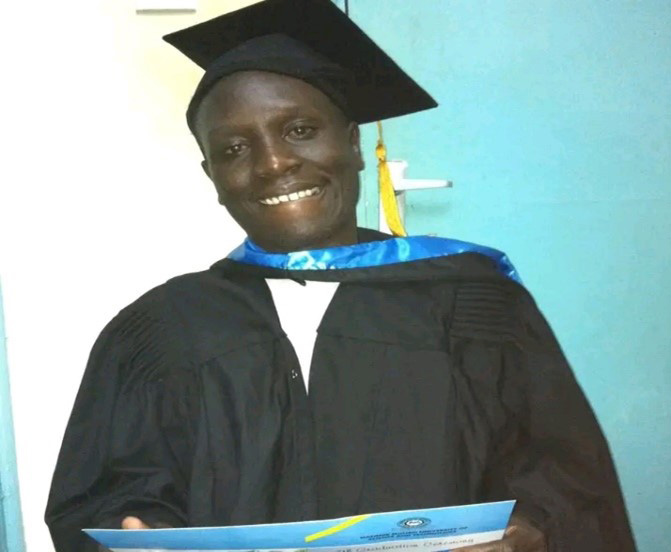 Read Manoah's powerful life story. He is an ACCES scholar, a husband and a father. He has faced and overcome many life challenges. He wrote this story for you and created a five minute video at the end as a gift to ACCES.
---
Hello ACCES donors. I am Manoah Wakhu Bornface. I am a Kenyan male adult of 30 years. I am a person living with disability (double amputee below the knees) and a proud ACCES beneficiary. This is my story.
I was born on October 17th, 1993, in a place called Lubao in Isukha North, Shinyalu Constituency, in Kakamega County in Kenya. I am the 6th born in a family of 11 but two of my siblings died. Since my parents had not acquired significant formal education, they had no meaningful jobs. My father was a matatu driver and my mother a homemaker trying to maximize an eighth acre of land for subsistence farming as they struggled to raise the nine of us.
My childhood life was not easy since at an early age I spent quite some time moving from hospital to hospital until I was diagnosed with cancer like disease which was uncurable. My legs were turning dark and infectious puss like fluid kept oozing from the wounds. This fluid infected my left hand that also resulted in my three fingers being amputated. My family lacked funds to seek proper medication from competent facilities, so we relied on the Kakamega General Hospital which was ill equipped to manage chronic diseases such as mine.
On one occasion my mother had to sneak us from the hospital due to accrued bills. After leaving the hospital without being properly discharged my condition worsened but we could not go back to the hospital because of the debt. My mother did her best to take care of me at home while she hoped for the best but prepared for uncertainty.
Luckily, a good Samaritan sponsored my medication and treatment at what was known as the Russia Hospital currently known as Jaramogi Odinga Teaching and Referral Hospital in Kisumu. There was not any other remedy other than amputation. This shocked my mother whose health condition was not good due to preexisting conditions but deteriorated from the stress of my condition. My father became responsible to take charge of nursing the two of us. Since he could not manage alone, my elder sister had to assist. The healing journey was long and at times seemed hopeless. At one point my parents were advised to do away with me since I could not survive and would only bring shame to the family. Since my parents loved me and could not follow this advice they were ostracized by their friends and part of our extended family.
With time, my wounds healed, and my sister Tina taught me and helped me to acquire shoes so that I could adapt mobility by walking on my knees. Through God's grace, I managed and lived a normal life despite the discrimination from the society and especially my peers that sometimes caused a great amount of distress.
In the year 1998, I had reached the age of joining school but there were no schools in my village that could accept me in my condition. Some teachers cited lack of facilities to incorporate me, and others even misadvised that taking me to school was a waste of resources which my dad did not have. Special schools were few in the country and the only one near us was Daisy Special School in Kakamega town though my family could not afford to take me there. I did not attend school until the year 2000 when I secured a scholarship through Full Gospel Churches of Kenya that paid my tuition and Liliane Foundation anchored in Catholic Churches Associations paid my boarding fees, respectively. I joined Daisy Special School and was able to complete my primary education with the help of the two organizations.
In 2007, I did my Kenya Certificate of Primary Education and attained 380 marks out of 500 marks. But here again another challenge presented itself. Due to post-election violence of 2007/2008 most donors stopped funding organizations. Also, the two organizations that funded my primary education only sponsored learners at the primary level. Based on my marks I was admitted to three secondary schools but we lacked the financial means for me to attend.
Each night I would sit with my mother outside our grass thatched house and read the calling letters to her as she prayed for a miracle to happen. Indeed, a miracle happened when a well-wisher who used to visit Kakamega for conferences at Full Gospel Church heard my story and offered to pay my registration fees of KSH. 60,000 that allowed me to join Kakamega High School. With the words of my primary teacher Ms. Smart echoing in my mind that "a person with disability can only be rescued through education", I worked hard. At times I would be sent home for unpaid fees when my sponsor had to stop supporting me, but I couldn't go home. Instead I would go to the Busia border and offer transportation of goods using my tricycle to raise fees and then return to school.
I struggled with keeping myself at school but spending most time at the Busia boarder trying to raise money. This affected my grades since at the end of my fourth year, I sat for my Kenya Certificate of Secondary Education in the year 2011 and managed to score a C plain which was below the minimum entry into the University. At this point I felt like my education journey had ended. I stayed out of school for two years trying to earn money. My sister found work in a village secondary school as an untrained teacher and supported my education with the little money she earned funding me to join college for a diploma course at Masinde Muliro University of Science and Technology (MMUST) in Kakamega. She paid my first semester fees as I began taking a diploma in Social Work and Community Policing. At the same time, I joined local acting groups where we could perform set books to local secondary schools and earn money for fees. Since my sister also had to go back to school, she had to quit her teaching job hence withdrawing her support for me. However, from the little savings I had saved from acting, I managed to pay my diploma fees and get a waiver to join second year of a Bachelor of Arts in Criminology and Criminal Justice. I only managed to pay for my first semester fees when things fell apart.
The acting hustle crumbled and after doing my second year, with debts, the University introduced a zero-balance fee policy which meant that a student could not write exams if they owed money at the end of the semester. I was at the verge of dropping out when I heard about ACCES KENYA. I tried my luck and drafted my story and it's at this juncture that I acknowledge that God was in control. I was taken by ACCES, and they paid my under graduate fees that enabled me to graduate in 2018. I really thank ACCES KENYA for they really impacted my life. Looking at where I came from, indeed they are God sent since I had given up on education, but they took my hand and showed me direction.
Currently I am engaged by Masinde Muliro University on a contract basis where I am designated as an investigation officer and double as a CCTV controller. With the little savings I get from my job, I am supporting my siblings in their education. I have also taken up to assist a friend from Daisy Special School who reminds me of my childhood. His name is Kona and he is in grade six. He has similar disability like mine. I have also enrolled for a master's program where I am pursuing Masters of Arts in Criminology and Criminal Justice at Masinde Muliro University. I am also a member of Kakamega County Disability Caucus and the Chair of Souls Hawk Disability Empowerment Association (SHDEA) where we advocate for the rights and inclusion of persons living with disability in all spheres of life. God has also blessed me with a family of my own and I am a father of two children and married to one wife.
All this is attributed to ACCES KENYA for if it were not for them, I would not be here. I just want to take this opportunity and thank them – the donors, the committee, the directors, the Kenyan ACCES staff and the ACCES family at large. I have come this far because I was given an opportunity by ACCES and I don't take it for granted. May GOD bless our ACCES family.
Thank you.
Manonoah Wakhu Bornface, ACCES Alumni