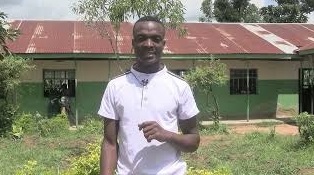 Jacob hails from the western region in Kenya. He was born into a very humble family, one which depended on hand to mouth each day for sustenance. His father passed on in 2003 and a year later, his mother also died. This double tragedy left him as an orphan and posed a profound impact to his dream of attending University. Being an only child, he was forced to reside with his aged grandmother, who was incapable of fending for them. Jacob came to the realization that his dreams had been cut off. He would as a young child, beg for food and other basic needs from some of his neighbours which resulted in him being mistreated within the community.
In 2011, when Jacob was in class 7, he was told about ACCES by his aunt and he was lucky to be accepted in Elufafwa primary school at no cost, an ACCES built and run community school. This rekindled his hopes and chances of attending post-secondary. He excelled at the ACCES primary school and scored 365 marks in the Kenya Certificate of Primary Education exam. His name and score are still displayed in the school today.
After primary school, Jacob was sponsored for four years by ACCES in secondary school at St. Paul's Emulakha school. He excelled scoring very high marks and was excited about his future possibilities. Jacob was admitted into university but deferred for one year due to a lack of fees to pay his tuition. In 2019, ACCES again supported him when he was granted a post-secondary scholarship. He attended university and did very well knowing that his fees were paid each semester for his entire degree. He will graduate in December 2023 with a bachelor's degree in Business Information Technology. Currently, Jacob is finalizing his internship as a software developer.
Looking back at Jacob's journey, he would not have made it were it not for the support he received from ACCES at many stages throughout his life including primary school, secondary school, and university. ACCES has been his climbing stone, his savior and he is so grateful for this. He says that ACCES has given him an opportunity to see the bigger picture of the technology world and how it can be harnessed. He has been involved in sensitizing youths in the community and the church on the importance of education. He also looks forward to getting a job in the field of information technology.
He says, "Blessed is the hand that gives than the one that receives" He hopes that one day he will also impact a positive change on an individual's life. He is so grateful for the generosity of ACCES donors and prays that your donations open more doors of blessings for you and your generations to come!